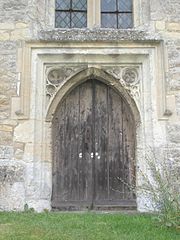 Origin and Ancestry DNA Database & Electronic Archive


Mathias St. John, II

1628 - 1728 (100 years)
Submit Photo / Document
Has more than 100 ancestors and more than 100 descendants in this family tree.
Relationship

with Mathias St. John

Born

30 Nov 1628
New Windsor, Berkshire, England [1, 2]

Gender

Male

Generation

21

Immigration

1634-1638
Dorchester, Suffolk, Massachusetts
father made a freeman in Sept. 1634

Residence

1638-1648
Windsor, Hartford, Connecticut, USA

Residence

1648-1654
Wethersfield, Hartford, Connecticut, USA

Residence

1654
Norwalk, Fairfield, Connecticut, USA

Died

Dec 1728
Norwalk, Fairfield, Connecticut, USA [3]

I'm not convinced this Mathias died in 1728. Unfortunately there isn't a Will or any other death data to confirm or deny this date. (13 Dec 2014 S. St. John)

Age

100 years

Siblings

5 siblings

Headstones

Submit Headstone Photo

Person ID

OSA0002
St. John Origin and Ancestry DNA Database

Last Modified

20 Apr 2018




| | |
| --- | --- |
| DNA Tests | 22 DNA tests are associated with Mathias St. John, II |




Father

Mathias St. John, I
b. 9 Aug 1601, St. Olave, Silver Street Parish, London, England
d. Nov 1669, Norwalk, Fairfield, Connecticut, USA (Age 68 years)

Relationship

Birth

Mother

Mary Tinker, St. John
b. 6 Aug 1606, New Windsor, Berkshire, England
d. Aft 1670 (Age 64 years)

Relationship

Birth

Married

1 Nov 1627

Children

6 children

Family ID

F1
Group Sheet | Family Chart





Documents

Matthias Saint John (OSA0002), Sen[ior] to son, James Saint John (OSA0010) Norwalk Land Records 4:87 8 Feb 1709/10
To all people to whom these presents shall come, I Matthias Saint John Senior do send Greeting. Know ye that I the said Mathias Saint John of the Town of Norwalk in the County of Fairfield within her majesties colony of Conneticut in New England for an in consideration of Love good will and affection which I have unto and for my loving son James saint John of the aforesaid Town and County have given and granted and by these presents do fully clearly and absolutely give and grant unto the said James Saint John his heirs and asigns forever his severall parcells of and and meadow here after mentioned all lying within the township of Norwalk [unknown] two herds of my calf pasture lott, bounded by Ebenezer Saint John land north by land of John Boundick lott south west by Charles Crick, East by Spruce Swamp. Also one fourth part of my land at Elees Nock, bounded by Ebenezer Saint John land north by Matthias Saint John (Junior) land south, west by the crick and Jospeh Platts meadow, East by John Platts land, Also one quarter part of my land without the fence at said Neck at the west side next the crick bounded west by the meadows, East [ward?] by Ebenezer St. John land north by Canton land also a piece of salt meadow called Maliama [unknown] meadow in Estimation three [Unknown] more or less. bounded east by John Nashes meadow [unknown]by said Nash west common land, south John Broundick Senior Also six acres of land upon the west side of the wolf pitt hills bounded by Ebenezer Saint Johns land north of partly by Matthias Saint John Junior South by Said Ebenezer and common land and west by said Ebenezer land. Also a piece of low land one and east on the east side of Ebenezer's land south of Georges Hil foure rod wide bounded north by a highway, west by said Ebenezers land, south of my pasture on the mill brook bounded south by the said Ebenezers land west by said Ebenezer's land and joseph Platts. North East by common land also five acres of land to take up on the account of the Sawkatock meadow also eighty pounds right of Comonage. To have and to hold said parcels of land and meadow with all the appurtenances and privileges and commodities to the same belonging or in any wife appertaining to him the said James Saint John his heirs and assigns from henceforth and favor as his and heirs own proper estaet absolutely without any other matter of conditions than what I have received all ready from by way of engagement for his performance [unknown] In witness whereof I have here unto Lott my land and seal this twenty fifth day of January in the eighth year of her majesties reign 1709 / 10.
Signed sealed and delivered in the presence of John Raymond John Copp Recorded. Matthias Saint John Senior [seal].

Mr. Matthias Saint John senior acknowledged the above written justiment to [unknown] free act and deed February 8th 1709/10 before me James Olmsted Justice.

Recorded February 8th, 1709/10 John Copp Recorder

| | |
| --- | --- |
| Reference | Your Name Here. "Mathias St. John, II". The St. John Genealogy. https://stjohngenealogy.com/getperson.php?personID=OSA0002&tree=OSA0001 (accessed April 22, 2019). |



Sources

[S10537] Douglas Richardson. "The English Ancestry of the Merwin and Tinker Families of New England,". NEH&GS Register.


[S302] Berkshire Family History Society Transcription. Berkshire Marriages Second Edition © 2011-2012 Trustees of Berkshire Family History Society Registered charity Number 283010. ?.


[S198] Orline St. John Alexander. 17.