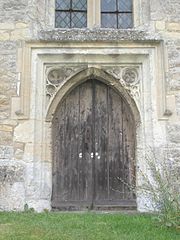 Origin and Ancestry DNA Database & Electronic Archive


Richard de Arundel

- Yes, date unknown
Submit Photo / Document
Has 24 ancestors but no descendants in this family tree.
Set As Default Person



Father

Richard KEEP Fitz Alan, of Arundel, b. of, , Sussex, England , d. Sep 1395
▸ Other Partners: Philippa Mortimer

Mother

Elizabeth de Bohun, b. of, , Northamptonshire, England , d. Bef 1391

Married

Yes, date unknown

Family ID

F331173
Group Sheet | Family Chart




| | |
| --- | --- |
| Reference | Your Name Here. "Richard de Arundel". The St. John Genealogy. https://stjohngenealogy.com/getperson.php?personID=I105491869&tree=OSA0001 (accessed May 27, 2020). |



Sources

[S22322] Lloyd, Jacob Youde William. The History of the Princes, the Lords Marcher and the Ancient Nobility of Powys Fodog and the Ancient Lords of Arwystli, Cedewen and Meirionydd. 6 volumes. London: T. Richards, 1881-1887, vol. 1 p. 382.


[S22840] Glenn, Thomas Allen. The Family of Griffith of Garn and Plasnewydd in the County of Denbigh, as Registered in the College of Arms from the Beginning of the XIth Century. London: Harrison, 1934, p. 215.

Warning
: Invalid argument supplied for foreach() in
/home/suzstjohn/public_html/personlib.php
on line
361