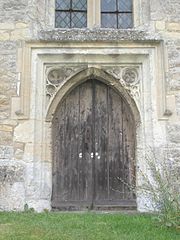 Origin and Ancestry DNA Database & Electronic Archive

Blanche of Lancaster
- 1369
Submit Photo / Document
Has no ancestors and no descendants in this family tree.
Set As Default Person



Husband

John of Gaunt, Duke of Aquitaine, Duke of Lancaster, b. 1340, St. Bavon's Abbey, Ghent, Flanders, Belgium , d. 1399 (Age 59 years)
▸ Other Partners: Constance de Castilla y Leon, m. 1372; Catherine de Roët, m. 13 Jan 1396

Married

1359 [1, 2]
Type: Husband - 1st Marriage

Family ID

F339082
Group Sheet | Family Chart




| | |
| --- | --- |
| Reference | Your Name Here. "Blanche of Lancaster". The St. John Genealogy. https://stjohngenealogy.com/getperson.php?personID=I105491258&tree=OSA0001 (accessed July 14, 2020). |



Sources

[S21234] Griffith, John Edwards. Pedigrees of Anglesey and Carnarvonshire Families: with Their Collateral Branches in Denbighshire, Merionethshire. Horncastle, England: W.K. Morton, 1914, p. I.


[S22933] Evans, Alcwyn Caryni. British Genealogy. Books A to H. National Library of Wales MSS 12359-12360D. Manuscript filmed by the Genealogical Society of Utah, 1950, book 6 p. F3.