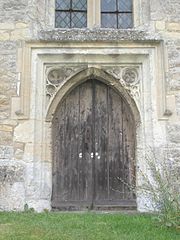 Origin and Ancestry DNA Database & Electronic Archive

Family: Daniel St. John / Hannah Seymour, wife of Daniel St. John (F161)
m. bef. 1735
Submit Photo / Document











Notes

Married:




Capt. Mathew Seymour died in 1735 naming his daughter Hannah St. John.

This means she was married to Daniel St. John no later than 1735.

Daniel St. John's will dated 1757 names wife Hannah.

People claim Grace Sherman St. John died 22 Aug 1768 Ridgefield, CT not before 1735, therefore she could not have been the first wife that died before the marriage that took place with Hannah before 1735.

Hannah Seymour is the mother of all of Daniel's children and Grace Sherman married another Daniel St. John.